Would you hire a business consultant without thoroughly checking their credentials? So why would you hire an energy efficiency consultant without properly interviewing them? Hiring someone who is not adequately qualified can lead to poor results. NCG's 20 questions can help.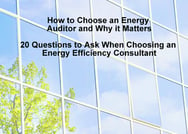 Whether you want to have an energy analysis on new construction, or an energy audit on an existing building, order your copy today. Don't waste any more time -- or energy! Complete this form and we'll send it right over.
For more, see the article, "What is an Energy Auditor and Why You Need to Select the Right One."