The use of the word sustainability has skyrocketed over the past 3 decades. What does this mean for the built environment, especially commercial real estate?
Get Newman Consulting Group's guide on "Why - and How to - Transform an Existing Building into a Sustainable Facility." Sustainable buildings are high-performance buildings. Why is that important?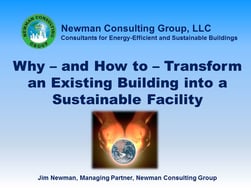 Increased Energy Efficiency

Reduced Cost

Improved Comfort for Employees and Guests

Longer Life of Building Equipment

And did we say Reduced Cost?
Complete the form to receive your copy of the guide!