They say video is the next best thing to being there. If you missed Jim Newman's latest presentation in a city near you, check out one - or more - of the presentations below. We've picked some highlights that we think will be especially useful for you to save money, save energy, improve indoor air quality or finance energy options.
Resilience for Buildings in a Changing Climate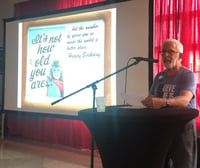 PechaKucha Night is a periodic event in many cities throughout the world where architects, designers and other creative professionals network and showcase their talents in a fast-paced, engaging format. The format - PechaKucha 20x20 - is a simple presentation where the speaker shows and discusses 20 images, each for 20 seconds. In July 2019, Jim was a featured presenter at the Detroit AIA, COTE PechaKucha Night event. You can see his presentation here.
Green & Sustainable Practices: How to Design a Healthier, More Profitable Building with Better Coordination Among Architects, Engineers and Owners
In March, 2018, Jim Newman was a guest lecturer for a graduate class at Lawrence Technological University (LTU) in the Department of Civil and Architectural Engineering.
Click here for video clips of this presentation:
Build a Better Building – And Keep it That Way

What Does Green Actually Mean to HVAC?

High Performing HVAC Systems Are The Key
Transforming Older Buildings into High Performance Facilities

In Sept., 2014, Jim Newman gave this presentation as an ASHRAE Distinguished Lecturer at the ASHRAE RAL CRC in Madrid, Spain, to an international audience of industry professionals.
In May, 2014, he presented this topic at the DTE/ESD Energy Conference. (Engineering Society of Detroit)
Click here for these video clips from the ASHRAE Conference in Madrid:
The Benefits of Retro-Commissioning

What Does "Green" Mean to HVAC?

Predictive vs Preventive vs Reactive Maintenance

What Happens When HVAC Goes from Green to Gray?
Click here for these video clips from the DTE/ESD Conference:
ASHRAE Level 1 and 2 Energy Audits

Why Do Facility Managers Need to See Utility Bills?

Why Should Building Owners Want an Energy Label?

Are LEED Buildings Really Energy Efficient?
Click here to see where Jim and others from Newman Consulting Group are speaking next. Click here to contact us about booking a Newman Consulting Group speaker for your company or conference.
We are continually updating this page. Looking for something that's not here? Visit our Youtube page here.