Newman Consulting Group, and Jim Newman personally, have been recognized for excellence by many industry organizations and professional publications.
ASHRAE Fellow
Jim Newman was honored as a Fellow of the international ASHRAE organization, January 2021. According to the organization's announcement, "Fellow ASHRAE is a membership grade that recognizes members who have attained distinction and made substantial contributions in HVACR and the built environment, such as education, research, engineering design and consultation, publications, presentations, and mentoring." Newman was one of the 14 members to receive this honor at the 2021 year's virtual conference. Some of Newman's contributions to ASHRAE are the Climate Change Chapter in the 2021 Handbook of Fundamentals, executive committee of the MI COVID-19 Task Force, a Distinguished Lecturer speaking internationally since 2010 and a member of several Task Force Groups.
BOMA Lifetime Achievement Award
Jim Newman was honored with BOMA Metro Detroit's (Building Owners and Managers Association) Lifetime Achievement Award at the organization's Annual Meeting on December 6, 2019. The award is presented annually to a member who "exemplifies outstanding leadership and achievement." Mr. Newman was recognized for his many years of service and for "a demonstrated ability and commitment going beyond the expected standards for service and professionalism." See details of the award.
Best Energy-Efficient Building Consultancy - Michigan
Newman Consulting Group was recognized by CV Magazine's Energy Innovator Awards, October 2019, for leading companies and individuals who strive for excellence in the important and evolving energy innovation sector. NCG was recognized for their work improving energy conservation and air quality in new and existing buildings, as well as providing financing for energy conservation projects through PACE (Property Assessed Clean Energy) and other methods, and for supporting LEED® (Leadership in Energy and Environmental Design) Certification projects.
Environmental Leader Award
Jim Newman has been named one of the year's Environment + Energy Leaders by industry hub Environmental Leader. The award recognizes industry leaders who are making significant strides in driving the industry forward. Honorees were formally recognized at the E+E 100 Luncheon during the Environment & Energy Manager Conference (ELEMCON) in Denver, May, 2019. See a complete list of honorees here.
ESD Affiliate Council Ann O. Fletcher Distinguished Service Award
In March 2019, Jim Newman received the ESD Affiliate Council's Ann O. Fletcher Distinguished Service Award for 2018. The recognition honors individuals for their dedicated service. The award was first awarded in 1997 in Ann O. Fletcher's name to honor her lifetime contribution to The Engineering Society of Detroit. The Affiliate Council consists of professionals representing 100+ ESD Affiliated Technical Societies.
Engineering Society of Detroit TechCentury Image Award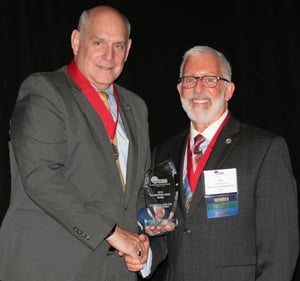 In June, 2018, Jim Newman received ESD's TechCentury Image Award, presented annually to individuals who have helped promote the engineering and technical professions through community, educational, professional and social media involvement.
Great Lakes Renewable Energy Association Exemplary Project Award
In December, 2017, NCG was commended for work on preserving The Whitney Restaurant using PACE (Property Assessed Clean Energy) to finance new building energy systems. The Exemplary Project Award, presented annually by the GLREA, recognizes the renewable energy or energy efficiency project that demonstrates the most innovative and practical use of technologies and methods for creating or conserving energy.
ASSE Engineer of the Year
In February, 2017, Jim Newman was recognized by ASSE (American Society of Sanitary Engineering) with the John E. Matthews Award for Engineer of the Year, which is given annually to an engineer who best exemplifies the professionalism during his or her career as displayed by ASSE member and leader John Matthews, PE, CIPE, FASSE.
EcoWorks Sustainable Communities Champion
In September, 2015, Jim Newman was named an EcoWorks Sustainable Communities Champion. Newman, along with two other Michiganders and a local organization, were recognized at the EcoWorks annual breakfast for demonstrating a deep commitment to modeling sustainable solutions, and perhaps more importantly, encouraging others to adopt sustainable practices as well. Former Michigan Governor, Jennifer Granholm, was the keynote speaker at the annual event.
Legend in Energy
In October, 2012, Jim Newman was named an Association of Energy Engineers "Legend in Energy." This mark of distinction is bestowed to qualified professionals who meet certain criteria of recognition or service to the organization.
ASHRAE Distinguished Service Award
In June, 2012, Jim Newman received the Distinguished Service Award from ASHRAE at the 2012 Annual Conference held in San Antonio, TX. The Distinguished Service Award recognizes members for giving their time and talent on behalf of the Society.
A Life Member, Newman is an ASHRAE-Certified Operations and Performance Management and Building Energy Assessment Professional, and also serves as an ASHRAE Distinguished Lecturer. He is a past member of the ASHRAE Detroit Chapter Board of Governors, and has served on various international technical and policy committees. Since 2002, he has been a certified trainer on ASHRAE/ANSI/IESNA Energy Standard 90.1, and has trained hundreds of architects, engineers and facility managers on the Standard.
ASHRAE Distinguished Lecturer
In February, 2010, ASHRAE selected Jim Newman as an ASHRAE Distinguished Lecturer effective July 1. The ASHRAE Distinguished Lecturer program provides ASHRAE chapters, student branches, and other organizations with lecturers equipped to speak on relevant subjects of interest to ASHRAE members and guests.
Some of Mr. Newman's topics include: LEED and Integrated Design; Tax Deductions from the Energy Policy Act of 2005; Transforming an Older Building into a High-Performance Facility, to name only a few. To see a partial list of topics please visit the ASHRAE website. For further topics, see Speaking Engagements.
Engineering Society of Detroit (ESD) - College of Fellows
In March, 2010, the Engineering Society of Detroit (ESD), its Board of Directors, and Executive Committee of the College of Fellows, nominated Jim Newman as a member of the ESD College of Fellows. ESD Fellows are members of unusual distinction, conferred by invitation of the Board of Directors for outstanding and extraordinary qualifications and experience in their professions as evidenced by accomplishments in the following major areas: technical achievement; professional achievement; ESD service and leadership; and professional society service and leadership – as indicated by honors and awards, publications and patents, academic service and leadership, and community service and leadership.
Detroit Free Press - Michigan Green Leaders for 2010
In Celebration of the 40th Anniversary of Earth Day
In February, 2010, Jim Newman was nominated along with 350 other individuals, businesses and non-profits for the prestigious 'Michigan Green Leader' award. Out of 350 nominations, 16 companies or individuals were awarded the 'Michigan Green Leader Award' and fourteen others, including Jim Newman, received 'Honorable Mention.' The judges of the event stated that the additional winners were selected because they were deemed as individuals/companies that showed significant merit in the field of innovation, job creation, products and services, sustainable development, community advocacy, conservation and much more.
Corp! Magazine Green Initiatives Champion Award
In January, 2010, Corp! Magazine recently honored James L. Newman, Owner and Managing Partner of Newman Consulting Group, LLC with their 'Green Initiatives Champion' award. The award honors individuals/companies who have demonstrated exemplary efforts in eco-friendly initiatives including air quality, green building/business practices and environmental stewardship. Mr. Newman also appeared on a panel entitled "Michigan's Going Green – Now What?"