Farmington Hills, MI. During the Annual Meeting of the Great Lakes Renewable Energy Association (GLREA) in Lansing, MI, on Dec 2nd, Jim Newman, Managing Partner of Newman Consulting Group LLC (NCG), accepted GLREA's 2017 "Exemplary Project Award." NCG was commended for work on preserving The Whitney Restaurant using PACE (Property Assessed Clean Energy) to finance new building energy systems. The Exemplary Project Award, presented annually by the GLREA, recognizes the renewable energy or energy efficiency project that demonstrates the most innovative and practical use of technologies and methods for creating or conserving energy.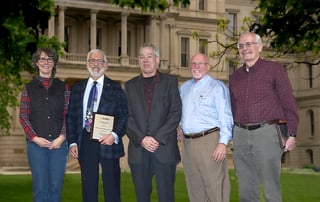 The Newman Consulting Group team is leading PACE development in Michigan with the Whitney Restaurant, the first PACE project in Detroit (Wayne County). "The Whitney Mansion is on the National Register of Historic Places and the restaurant has been a favorite for Detroiters for more than three decades. They are taking significant steps toward leadership in energy efficiency while also enhancing the guest experience," Newman said in accepting the award.

After performing a comprehensive energy analysis on the 120-year-old building, NCG projects that the restaurant will save more than 25% in energy costs with improved, energy efficient HVAC systems and controls, energy-saving LED lights, and high efficiency windows. In addition to significant energy savings, these energy efficiency measures also will result in tens of thousands of dollars per year in avoided costs and maintenance savings.

PACE financing in the statewide Lean & Green Michigan PACE market makes it easy for property owners to invest in energy efficiency by spreading the cost out over many years — 20 years in this case — and guaranteeing that the investment is cash flow positive for the borrower from day one. "The PACE program gives building owners and businesses like ours an incredible opportunity to update old systems without dipping into operating funds," says Bud Liebler, owner of The Whitney Restaurant. "You end up with an up-to-date and totally energy efficient property, and have the energy savings benefits while you're paying back the loan. It's a win-win for everyone."

Newman Consulting Group LLC (NCG) is a globally recognized authority in energy efficiency for buildings. The NCG reputation rests on a team of highly skilled engineers, analysts, program managers and professionals certified in efficiency implementation and verification to guarantee a positive ROI. The team helps commercial, industrial and multi-family property owners all over the U.S. implement energy efficiency projects (including renewable energy such as solar, wind, geothermal), eliminate waste, and save money through innovative financing solutions.

Since 1991, the Great Lakes Renewable Energy Association (GLREA) has been working to expand the use and generation of solar and wind energy through education and advocacy.

Photo Caption:

GLREA executive committee members present Jim Newman with the 2017 "Exemplary Project Award." L to r: Melanie McCoy, Newman, Dave Konkle, Mark Clevey and John Sarver.