Farmington Hills, MI Jim Newman, owner and managing partner of Newman Consulting Group, LLC (NCG) in Farmington Hills, Mich., was honored with BOMA Metro Detroit's (Building Owners and Managers Association) Lifetime Achievement Award at the organization's Annual Meeting on December 6.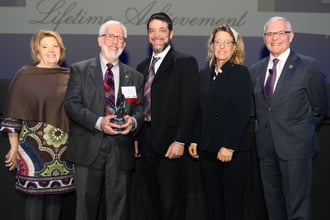 According to BOMA, the award is presented annually to a member who "exemplifies outstanding leadership and achievement." Mr. Newman is being recognized for his many years of service and for "a demonstrated ability and commitment to going beyond the expected standards for service and professionalism." Among his many contributions, he was Chair of the Detroit BOMA Chapter's Committee on Sustainability from 2009 to 2016, was a speaker at the 2018 national BOMA Convention in San Antonio, TX, and has been a judge for the TOBY Award (The Outstanding Building of the Year) several times.
Trained as a mechanical engineer, Newman has been known as the "Dean of Green" since 2010 for educating people the world over as an author, featured panelist, ASHRAE Distinguished lecturer, keynote speaker and trainer. He has taught architects and engineers, building managers, maintenance professionals, student groups and the media about sustainability and green technology.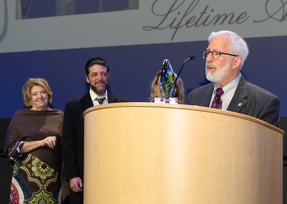 In addition to BOMA, Jim is active in many technical societies and organizations, including ASHRAE (American Society for Heating, Refrigeration and Air Conditioning Engineers), USGBC (United States Green Building Council), IFMA (International Facility Management Association), AIA COTE (American Institute of Architects Committee on the Environment), and the Urban Land Institute (ULI).
Newman has been promoting energy conservation and indoor air quality for more than 40 years. In 2002 he founded Newman Consulting Group to help commercial, industrial and multi-family property owners implement energy efficiency projects to eliminate waste and save money. Today NCG is one of the Midwest's premier energy efficiency and green building consulting firms, specializing in energy audits and LEED® (Leadership in Energy and Environmental Design) certification consulting, building commissioning and re- and retro-commissioning, and PACE (Property Assessed Clean Energy) and PPA (Power Purchase Agreement) financing.
Click for more information on BOMA Metro Detroit or Newman Consulting Group.
Pictured above left (l to r): Lynn Newman, Jim Newman, Stuart Newman, Valerie Newman, Gregg McDuffee. Photo by Masserman Photography
Pictured lower right : Jim Newman accepts the BOMA Lifetime Achievement Award with his family on stage with him (l to r), wife Lynn Newman, son Stewart Newman, (behind) daughter Valerie Newman, and Jim at the podium delivering his acceptance speech. Photo by Masserman Photography