1st synagogue in Michigan and only the 7th nationwide to receive LEED certification
WEST BLOOMFIELD, Michigan, April 15, 2016 – Temple Kol Ami has been awarded Leadership in Energy and Environmental Design (LEED©) certification for its Religious School Wing. The formal presentation honoring the Temple was Sunday, May 1st.
At the encourageme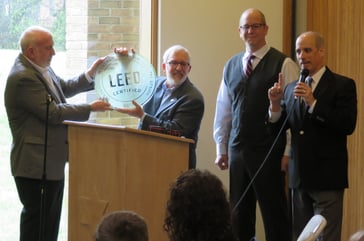 nt of Senior Rabbi, Norman T. Roman, and then Assistant Rabbi, Ariana Silverman, the 2008 construction, which also renovated the synagogue's administrative offices, added 2,300 square feet to both the basement and main level, and was constructed with great care and consideration to the environmental impact.
The Temple's building committee worked closely with the architect, contractor and LEED consultant. They had to make many decisions about materials and design to ensure not only an environmentally responsible construction, but also a significantly healthier indoor environment than what is experienced by students in non-LEED certified classrooms.
The itemized list below shows just how exhaustive the process was to satisfy the very strict LEED criteria:
Read More