Farmington Hills, MI The Garfield Metro Building, a medical office building at 37555 Garfield Road, in Clinton Township, is the first commercial building in Macomb County to take advantage of new PACE (Property Assessed Clean Energy) financing that adds value to property through a direct increase in NOI (Net Operating Income). The PACE program, an innovative financing structure, makes it possible for owners of commercial, industrial, and other non-residential properties to obtain long-term financing at very favorable rates for energy efficiency, water conservation, and renewable energy.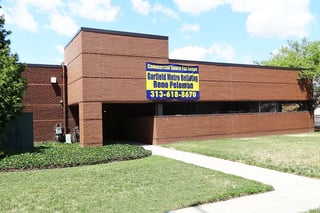 The PACE-financed upgrades at the 20,000 sq. ft. Garfield Metro Building is slated to break ground in August 2017. Prominent local companies, including Bumler Mechanical and BASS Controls, both members of the National Electrical Contractors Association and affiliated with IBEW Local 58, will work on the project. BlueColt Lighting of Ann Arbor will install the new LED lighting.
These improvements will result in $733,133 in total savings, with a net savings of $254,725 over 20 years. "Through PACE, the building owners not only save money and eliminate energy waste, but they also set a sustainable example for other small and medium sized buildings across Macomb County and Michigan," says Jim Newman, Managing Partner of Newman Consulting Group, the PACE Provider on the project.
Project Stats:
PACE District: Macomb County
Property Owner: RMP, LLC
PACE Provider: Newman Consulting Group LLC
PACE Administrator: Lean & Green Michigan™
PACE Lenders: Petros PACE Finance and Huntington Bank
PACE Contractors: BASS Controls, BlueColt Lighting, Bumler Mechanical
Amount financed: $249,000
Energy conservation measures: Efficient heating and cooling systems, LED lighting, networked building controls
Cost savings over 20 years: $7333,133
About PACE
Property Assessed Clean Energy (PACE) enables low-cost, long-term funding for energy efficiency, renewable energy, and water conservation projects. PACE financing is repaid as an assessment on the property's regular tax bill, and is processed the same way as other local public benefit assessments (sidewalks, sewers) have been for decades. In Michigan, PACE can be used for commercial, nonprofit, and multi-unit residential properties.
How Does It Work?
A national initiative, PACE programs are instituted locally and tailored to meet regional market needs. Michigan lawmakers have passed legislation that authorizes municipalities to establish PACE districts. All PACE programs generally start with the same parameters:
Can cover 100% of a project's hard and soft costs for study and implementation of Energy Conservation Measures
Long-term, low-cost financing up to 20 years
Can be combined with utility, local, and federal incentive programs
Guaranteed cash flow positive results
Off balance sheet financing
Assessment transfers with building ownership
Voluntary for all parties involved
About Newman Consulting Group, LLC
Newman Consulting Group, LLC (NCG), headquartered in Farmington Hills, Michigan, is a globally recognized authority in energy efficient buildings. The NCG reputation rests on a team of highly skilled engineers, analysts, program managers and professionals certified in efficiency implementation and verification to guarantee a positive ROI. The team helps commercial, industrial and multi-family property owners all over the U.S. implement energy efficiency projects, including renewable energy to eliminate waste, and save money through innovative financing solutions.
Click here for the Garfield Metro case study.
For more information about NCG or PACE please contact:
Douglas Elbinger, Energy Systems Analyst
doug@ncgconsulting.us, 248-808-2574
www.newmanconsultinggroup.us/services/optimized-building-solutions