Farmington Hills, MI Eaton County Treasurer, Bob Robinson, announced the redevelopment of the old Lansing State Journal facility under PACE (Property Assessed Clean Energy). Mr. Robinson said that "the PACE energy efficiency financing program has proven its value for promoting economic growth in Eaton County." This is the second PACE project in the county.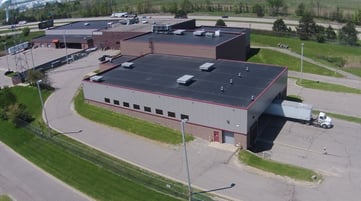 ProVisions, LLC, a leading real estate and economic development firm headquartered in Troy, Michigan, working with Eaton County and Delta Twp. has redeveloped the 93,000 sq. ft. former Lansing State Journal printing and distribution facility (where I-96 and I-69 converge). Renamed the 'Delta Business Center,' the site is now available for commercial and industrial use and they expect many new jobs will be created in the near term.
Consistent with ProVisions corporate policy of sustainable and energy efficient facility management, they have replaced the 1980's era HVAC and lighting systems with modern, energy efficient systems using digital controls. According to Jim Newman, of Newman Consulting Group LLC, "Thanks to ProVision's forward-thinking policies, we're projecting significant energy savings as required by the PACE financing program."
WHAT IS PACE?
Property Assessed Clean Energy (PACE) is a financing mechanism that enables low-cost, long-term funding for energy efficiency, renewable energy, and water conservation projects. PACE financing is repaid as an assessment on the property's regular tax bill, and is processed the same way as other local public benefit assessments (sidewalks, sewers) have been for decades. In Michigan, PACE can be used for commercial, nonprofit, and multi-unit residential properties.
HOW DOES IT WORK?
A national initiative, PACE programs are instituted locally and tailored to meet regional market needs. Michigan lawmakers have passed legislation that authorizes municipalities to establish PACE programs. Every PACE program starts with the same parameters.
Can cover 100% of a project's hard and soft costs for study and implementation of Energy Conservation Measures

Long-term, low-cost financing up to 20 years

Can be combined with utility, local, and federal incentive programs

Guaranteed 'cash flow positive' results

Voluntary for all parties involved
WHY IS PACE SO POPULAR?
Property owners love PACE because they can fund capital-intensive energy improvements with no out-of-pocket costs. Since PACE financing terms extend to 20 years or more, it's possible to undertake deep, comprehensive retrofits that have meaningful energy savings and a significant impact on the bottom line. The annual energy savings for a PACE project is guaranteed to exceed the annual assessment payment, so property owners are cash-flow positive immediately. That means there are increased dollars that can be spent on other capital projects, budgetary expenses, or business expansion.
Local governments love PACE because it's an Economic Development initiative that lowers the cost of doing business in their community. It encourages new and existing business owners to invest in the area, and creates jobs using the local workforce. PACE projects also have a positive impact on air quality, creating healthier, more livable neighborhoods.
Project Stats:
PACE District: Eaton County
Property Owner: Delta Business Center, LLC
Project Developer: Newman Consulting Group
PACE Market: Lean & Green Michigan™
Construction Manager: Continuum Services
Amount Financed: $718,035
Energy Conservation Measures: HVAC systems, LED lighting, fans
Each year, the project will eliminate 503,954 kWh of traditional electricity and 2,800 MCF of natural gas.
Greenhouse Gas Reduction: 507 metric tons annually
That's like taking more than 105 cars off the road!
Cost savings over 20 years: $1,822,313
Newman Consulting Group, LLC, headquartered in Farmington Hills, Michigan, is a globally recognized authority in energy efficient buildings. Optimized Building Solutions (OBS), a division of Newman Consulting Group, is a team of highly skilled engineers, analysts, program managers and professionals certified in efficiency implementation and verification to guarantee a positive ROI. The OBS team helps commercial, industrial and multi-family property owners all over the U.S. implement energy efficiency projects (including renewable energy such as solar, wind, geothermal), eliminate waste, and save money through innovative financing solutions.
ProVisions, LLC, headquartered in Troy, Michigan, is a leading real estate firm serving the public and private sector throughout the United States and abroad. ProVisions, LLC owns, finances, and develops initiatives valued between $1-$500 million involving multiple disciplines and responsibilities.
Continuum Services is a full-service, single-source provider with proven expertise, dependability, and scalability for interior and exterior facility operations, maintenance and repair. With multi-disciplinary expertise under one roof, Continuum delivers exceptional value and customer satisfaction. Instead of coordinating multiple vendors, customers work with just one for all of their facility service needs.
Lean & Green Michigan,™ a statewide PACE market administered by Levin Energy Partners, is open to all local governments, free of charge. The market currently includes 29 jurisdictions representing 62% of Michigan's population.
Petros PACE Finance is a national PACE lender based in Austin, TX that has played a leadership role in helping develop the Lean & Green Michigan market. With investment commitments of over $1 billion, Petros can fund virtually any qualifying PACE project.
Caption: The former Lansing State Journal facility in Eaton County is reopening as the energy efficient Delta Business Center.