Farmington Hills, MI. Highlighting all things green and sustainable, Jim Newman will present an educational sessions for the Engineering Society of Detroit (ESD) during their spring/summer series. Mr. Newman's session will highlight green and sustainable engineering and building management.
Open to everyone and designed for building owners, architects, engineers and technical professionals, the series offers an opportunity for personal and professional growth as well as Continuing Education credit.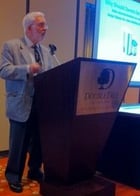 Monday, June 4: Green and Sustainable Practices – How to Design a Healthier, More Profitable Building with Better Coordination among Architects, Engineers, Owners and Contractors
This session explores how a building engineer or facility manager can be more valuable to their organization by helping them conserve energy, and enhance the health, well-being and productivity of building occupants all while saving money. Participants will learn how to design and maintain energy efficient systems for commercial, residential or industrial buildings that are also healthy for the people who live, work and play there.


Sessions are $50 per two-hour course for ESD and affiliate members, $75 for non-members, and just $25 for students. Other topics include integrating system behavior, water conservation strategies, infrastructure issues, systems architecture, and more. See the brochure here. Register online at www.esd.org, or by phone, 248-353-0735

.