ORION TOWNSHIP, Mich. (Jan. 20, 2016) – Powers Distributing, a beer distributor in Orion Township, Michigan, teamed up with Newman Consulting Group, Lean & Green Michigan, and Michigan Solar Solutions to complete Michigan's first refinanced PACE project (Property Assessed Clean Energy). The groundbreaking project opens the door for additional energy efficiency financing in Orion Township and elsewhere. Project Highlights:
---First PACE project in Oakland County
---First 'Refinance' PACE project in Michigan
---First Beer Distributor in USA to finance energy efficiency with PACE
"Clean, renewable energy has evolved from being just a good idea to being proven business strategy," said Gary Thompson, Powers' chief operating officer. Thompson and Powers' staff welcomed Orion Township officials and environmental professionals to their Orion Township headquarters on January 20, to celebrate the announcement. Guests learned about the company's ongoing environmental efforts while gaining insight into how other businesses can use PACE financing.
"Powers is a family business with deep roots in our community," said Thompson. "Investing in sustainability and clean energy is part of our commitment to our community, our state and to future generations." As Gary explained it "…the entire beer supply chain from brewing to distribution to your refrigerator is a long and energy hungry road."
Under the Michigan PACE statute, any project that qualifies for PACE financing can also be refinanced by PACE, allowing companies to obtain long-term financing for recently completed clean energy projects. Between 2013 and 2015, Powers Distributing added a 95kW solar system to the roof of its recycling center and installed LED lighting throughout the facility. The combined efforts reduced energy costs by an average of $4,000 a month. Newman Consulting Group (NCG) uncovered the refinance opportunity while working with Powers' on their efficiency measures. Lean & Green Michigan stepped in to support the passing of PACE legislation in Orion Township that allowed the project to move forward. Then NCG provided technical expertise and financial analysis to verify the project's qualification for PACE financing.
Powers Distributing is one of the first companies in Michigan to take advantage of PACE, a new method for financing energy efficiency projects. Although Oakland County and Orion Township play a vital role in the PACE process, not one dollar of taxpayer money is used, or risked, in the process.
HOW PACE FINANCING WORKS
Commercial buildings spend approximately $200 billion per year on utilities, yet, according to the EPA, 30% or more is wasted due to poor maintenance and obsolete equipment. Almost every building over ten years old can benefit from energy efficiency upgrades, often resulting in 15 - 40% energy savings. The energy projects that could make these buildings more energy efficient usually require a large amount of up-front capital and take many years to achieve profitability. Typically, commercial loans have a term of 3-5 years, making the annual repayment much greater than the energy savings, and few companies can afford to take the huge capital expense out of operating budgets to finance these projects.
PACE changes all this by allowing property owners to finance energy efficiency and renewable energy projects through a special property tax assessment with the local government. One of the key advantages to this proven method of financing is that the loan (actually a tax assessment) is off balance sheet, meaning that the tax payments are an operating expense, not a liability. In the event that the building is sold, the tax assessment stays with the building.
Since the local government, Orion Township in this case, will enforce the PACE assessment like any other tax obligation, lenders feel secure in providing low rate, fixed-interest loans, with terms of up to 20 years. The result is immediate positive cash flow for commercial property owners because the savings generated by the project are greater than the PACE loan repayment.
These projects create good jobs, and communities get upgrades to their building stock, which may in turn increase the local tax base. Everybody wins.
Project Summary
Property Owner: Powers Distributing Company, Inc.
Energy Conservation Measures installed: LED lighting and 95 kW solar system
Contractors: Newman Consulting Group LLC, Michigan Solar Solutions
Project Cost: $435,000
Economic Impact over the lifetime of the project including energy savings, job creation, and tax incentives: $1,000,000+
Powers will save an average of $48,000 per year in energy costs.
Each year, the Powers PACE project will displace over 360,000 kilowatt hours of traditional electricity - equal to preventing the burning of 267,000 lbs of coal or enough electric power for 20 average American homes. The environmental impact includes the carbon soaking capacity of 203 acres of forest.
Powers Distributing Company, Inc. a leader in corporate responsibility, is a locally-owned and operat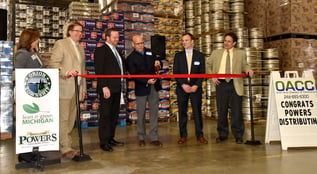 ed company that for four generations has been committed to providing consumers and retailers with expert inventory management of a large selection of the finest brewed products, ensuring freshness, and promoting the responsible consumption of alcoholic beverages, while working to maintain a greener, more sustainable environment. The company also owns and runs the world's largest privately-held hybrid fleet of tractor trailers. With more than 75 years of experience delivering beer, Powers Distributing earned Beverage World magazine's 2014 Beer Wholesaler of the Year award and the National Beer Wholesaler's Association's 2011 Craft Beer Distributor of the Year award. For more information please visit www.powersdistributing.com .
Newman Consulting Group, LLC, headquartered in Farmington Hills, Michigan, is a globally recognized authority in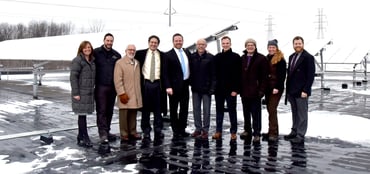 energy efficient buildings. Optimized Building Solutions (OBS), a division of Newman Consulting Group, is a team of highly skilled engineers, analysts, program managers and professionals certified in efficiency implementation and verification to guarantee a positive ROI. The OBS team helps commercial, industrial and multi-family property owners all over the U.S. implement energy efficiency projects (including renewable energy such as solar, wind, geothermal), eliminate waste, and save money through innovative financing solutions. At no cost or obligation, contact NCG to see if you qualify for PACE financing, www.newmanconsultinggroup.us, 248-626-4910.
See this short video from the event.
Top: Ribbon Cutting to celebrate first PACE project in Oakland Country, January 20, 2016. (L-R) Alaina Campbell, Executive Director, Orion Area Chamber of Commerce; Matt Gibb, Oakland County; Chris Barnett, Orion Township; Gary Thompson, COO, Powers Distributing; Kyle Peczynski, Petros PACE Financing; Andy Levin, Lean & Green Michigan
Bottom: Guests and VIPs inspect the solar panels on the roof of Powers Distributing (L-R) Alaina Campbell, Executive Director, Orion Area Chamber of Commerce; Mike Forrest, Michigan Solar Solutions; Jim Newman, Newman Consulting Group; Andy Levin, Lean & Green Michigan; Chris Barnett, Orion Township; Gary Thompson, COO, Powers Distributing; Kyle Peczynski, Petros PACE Financing; Doug Elbinger, Newman Consulting Group, Optimized Building Solutions; Debbie Vercnocke, Michigan Solar Solutions; Cory Connolly, Lean & Green Michigan