Five ways they are Unique and Five ways they are the Same as other LEED buildings
by Peggy Matta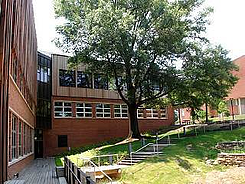 Recently I had the pleasure of serving on a USGBC Green Schools panel at the NOMA Convention in Detroit (National Organization of Minority Architects). Because this was a gathering of architects, we wanted to look at the design aspects of green schools, and what they, as architects, can influence.
I explained that the USGBC Green Schools certification is based on LEED principles and guidelines. Much of what is in LEED for Schools may be familiar to those who have worked on other New Construction (LEED NC) certification projects.
Some LEED Credits are specific to Green Schools, such as these five (not in any particular order):
Environmental Site Assessment
Acoustical Performance (classroom and core learning spaces)
Mold Prevention
School as a Teaching Tool
Joint Use of Facilities
The last credit encourages the use of the school by community groups when school is not in session. That might include a pool, gym, field or theater open to the community during the summer or on evenings and weekends when not being used by the school. The school can collect rent on this use as well.
These five elements are among those Green Schools have in common with other LEED guidelines:
Lighting and Daylighting
Thermal Comfort
Rightsizing HVAC
Indoor Air Quality
Links to Nature
Architects certainly can influence most of these elements, especially as leaders in an integrated design process.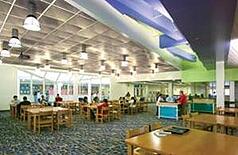 But "Why are Green Schools important?" I asked. Because 55,000 people, or 20% of the U.S. population, goes to school every day, and the environment in those schools affects the health and learning ability of the students and teachers that work and learn there. Today, one in five children has asthma and many adults do too. Poor indoor air quality (IAQ) in a school will contribute to the illness. Teacher absences can cost the school big dollars in terms of hiring substitute teachers.
A Green School is a living teaching tool that promotes science, stewardship and responsibility. So in addition to saving money on utility costs and staffing, a Green School is a better place to learn.
I further explained to the NOMA guests that a Green School does not have to be a new school. Through multiple additions and changes, Washington Technology, a school in Minn. built in 1924, had become a collection of half-stories with narrow stairs. In a recent upgrade, the school installed skylights, improved circulation and added flexible spaces to achieve Green status. The USGBC Center for Green Schools website has webinars, guides and more on how to make a school "green," see www.centerforgreenschools.org.
I also introduced the new Federal program from the US Department of Education called "Green Ribbon Schools." Modeled after the Blue Ribbon Schools program, which focuses on academics, Green Ribbon Schools are recognized in three areas:
Sustainability of the Building
Environmental Literacy of the Students
Community Outreach
I felt it was important for the Architects to know about this program because Green Ribbon Schools can bring much needed improvements to schools while saving districts money and creating jobs in the community. Green schools, which emphasize improving STEM (science, technology, engineering and math) skills, prepare students to participate in the green economy and ensure students are prepared for college, careers and to be informed and active participants in the civic process.
Not an additional certification program, the Green Ribbon Schools program recognizes a few exemplary schools each year. The program connects schools, and their support teams, with existing resources and standards. Applications for the 2013 Green Ribbon Schools award are available through state departments of education now.
2012 was the first year for this award. Representatives from the two schools from the State of Michigan that were recognized this year, Detroit Edison Public School Academy (DEPSA), a charter school, and Clarkson High School, from Clarkston Community Schools were on the panel with me. I will discuss their presentations in a future entry.