When giving a talk on Indoor Air Quality (IAQ) in 1991, I was discussing one of the consequences of poor IAQ – Sick Building Syndrome. A woman raised her hand and said, "I have that." The room went silent. She continued, "I was teaching at school and they started painting. By the time I left that first day I had tingling in my fingers. The second day I had tingling all the way up to my elbows. On the third day I went home very sick. I went to several doctors in the area who weren't able to diagnose it – they all said it was in my head. I finally found a holistic doctor who diagnosed it as Multiple Chemical Sensitivity (MCS)."
With the proper diagnosis, she could finally start treatment. To this day she is still hyper-sensitive to the VOCs (Volatile Organic Compounds) such as the odors from fresh paint, carpet and glue found in many buildings.
VOCs. Viruses. Stale air. Mold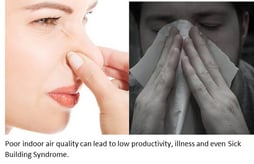 They spread through the air and can lead to Sick Building Syndrome. Left unchecked, they can cause serious health issues.
Sometimes the underlying source is easily seen, detected and mitigated. Sometimes exposure causes long-term health issues for those exposed.
Most often, especially in flu season or as a result of adverse events such as flooding or an epidemic like COVID 19, it pays to monitor Indoor Air Quality (IAQ).
Read More