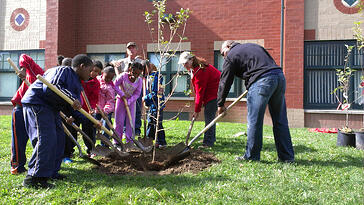 By Petty Matta, Associate, Newman Consulting Group
This item originally appeared on the USBGC-DRC website.
From planting fruit trees and composting, to showing off their new "green" school building, students and volunteers were busy in the Detroit area on Saturday, September 29th as part of the Center for Green Schools and U.S. Green Building Council's first ever Green Apple Day of Service. On that day, more than 1,250 service projects took place in 49 countries on every continent around the world to make our schools healthier, more sustainable places to learn.
Excitement was high in three Detroit Public Schools. A Community Green Fair was hosted at East English Village Preparatory Academy, a brand new $46.3 million energy-efficient school, which was built with environmentally-friendly and energy-efficient materials; while educational orchards were planted at William J. Beckham Academy and at Ronald Brown Academy.
East English Village Preparatory Academy is seeking LEED for Schools Gold Certification from the U.S. Green Building Council. Activities at the Community Green Fair on Saturday included tours of the new state-of-the-art building lead by student volunteers who were trained by the architects from Albert Kahn. USGBC volunteers conducted demonstrations of solar, wind and solar thermal energy, courtesy of Oakland Community College's Renewable Energy Mobile Classroom which was parked outside the front entrance. Neighbors of the school were able to discuss community initiatives with the Morningside, East English Village and Cornerstone community groups who set up tables in the school cafeteria to showcase neighborhood projects. The community members were amazed as they toured the new school. One of them remarked "This is nothing like where I attended high school! Kids must be really excited to go to school here."
NOMA (the National Organization of Minority Architects) also joined in the fair, exhibiting new portable display units which were designed and constructed as a Legacy Project for their National Convention which will be held in Detroit in October. The units will be utilized by WARM Training Center in Detroit to provide house weatherization demonstrations to parents and community members throughout the Detroit Metro area. Food was generously provided by Walbridge Joint Venture.
To read more, click here to go directly to the USGBC-DRC web site.