Is Retrocommissioning Worth it for Facility Managers?
Almost everyone takes heating, ventilation, and air conditioning for granted. However, facility managers keep these responsibilities in the forefront of their minds constantly.
Those who work within your building or visit your business just want to be in a comfortable environment. Facilities managers, however, have to be mindful of managing costs of operation and stay on top of HVAC technology—all while searching for different ways to stay on budget and be efficient. Doing this for older facilities is much more challenging.
Let's take a look at how successful retrocommission can bring about meaningful results.
Firstly, what does retrocommissioning mean? "Commissioning" can be looked at as the testing, installing, and designing systems in new buildings. "Retrocommissioning" can be thought of as the same systematic process practiced on current buildings. Although, it is more than just that—it's really about making sure that your systems are maintained and operated regarding the needs of the business owner.
It's common knowledge that as a building ages, energy costs increase. Retrocommissioning is used to fight this process by pinpointing wasteful inefficiencies. An energy audit provides technicians with a roadmap so that they can retrofit electrical and mechanical control systems or design-build and get a building back to its starting level of energy-efficient operation.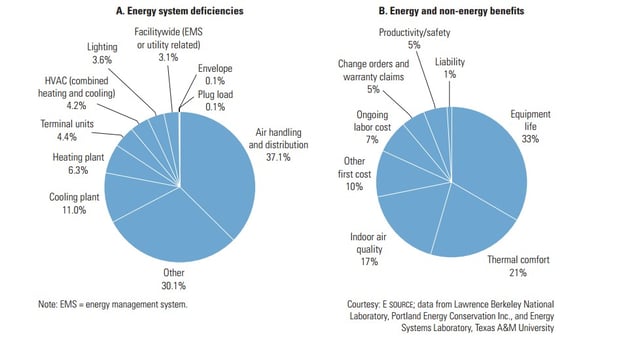 Chart A breaks down the most common energy system deficiencies.
Chart B breaks down the advantages of comprehensive retrocommissioning.
It's All About Energy Management
Rather than overpaying utility companies, you can invest in your own building.
Several companies earn the ENERGY STAR® Building label by retrocommissioning their buildings. Others only just want to save money. (How much? Retrocommissioning can reduce cooling and heating costs up to 15% in industrial settings.)
When hiring a retrocommissioning company, consider how Star Service Energy Management Services has aided several businesses in doing both. They begin with an introductory meeting and benchmarking to decipher the overall efficiency of operating and owning your building. Then they assess the systems to decide whether or not they are operating as they should, and if any possible improvements are needed. Quality companies will help you understand how much to expect in budgeting for the life-cycle costs of major equipment and future repairs. This includes correctly managing and controlling your air conditioning. One key strategy is to incorporate your maintenance staff throughout the project ensure your team comprehends the financial impact proper operation and maintenance of your AC systems has on the bottom line.
Who Benefits?
Retrocommission/retrofit services are for industrial facilities, property managers, and commercial building owners. Star Service has worked with state and local government buildings, private and public schools, office buildings, property managers, churches and medical facilities ranging from Florida to Texas, and nuclear plants.
The Bottom Line
If you want the most cost-efficient means for operating and owning AC systems in industrial and commercial facilities, consider retrocommissioning. Your existing budget can be used to fund energy management solutions, because often costs can be spread out over a period of time. Or if your state participates in Property Assessed Clean Energy (PACE), you may be able to find the project with little to no out-of-pocket costs.
Star Service is the largest provider of fixed-cost, preventative maintenance for AC systems in the Gulf South.