If you haven't heard about it yet, PACE, or Property Assessed Clean Energy - is the unique financial tool that allows building owners to fully finance energy conservation measures with no money down. Because PACE projects must be "cash-flow positive," this long-term loan is generally paid back out of the savings realized from the upgrades!
Here are three questions you might be asking if you are considering making energy efficiency upgrades such as new windows or lighting, improved HVAC, new controls, even solar panels and/or a new roof with better insulation, and want to know if PACE is for you.
Where Can I Do a PACE Project?

According to PACENation.com, "PACE-enabling legislation is active in 36 states plus D.C." Even though the Michigan state legislature passed PACE enabling laws, it still has to be approved county by county. As of August 21, PACE projects are legislated in 25 counties and 17 cities/townships

in Michigan.

That covers 71 % the state's population!

If your location is not currently on the list, don't worry. Each state has an organization that can help. For example, the Michigan PACE Administrator, Lean & Green MI, works with each government entity to get it passed.


How Much is a PACE Project?

PACE is an ever-evolving program. Typically these projects have a minimum threshold of $250,000 in financing for energy conservation measures to take advantage of the tax assessment benefits. Many have been well over that, with some projects up to $40 Million.

PACE is low- or no-cost to the building owner. Fees for services such as energy audits and project management are rolled into the total cost of the loan so the building owner need not cover them up front as is more typical with capital funding.

Lean & Green MI recently announced PACE Express financing for projects requiring less than $250,000. The application process is similar, but there are fewer statutory requirements. Still, PACE may or may not be for every building or project, in which case other funding options might be more appropriate.


Why Should I Use PACE?

Most organizations embark on an energy efficiency program to save money. Many use capital expenditures to pay for it. But if you're going to make the money back in savings – which you will as the Savings to Investment Ratio (SIR) must be greater than 1 – why use your own money when you can borrow essentially for free with a long-term payback that a) doesn't show on your books, and b) stays with your building even if it's sold?

Both for-profit companies and non-profit, 501c3 organizations can use PACE. And with the most recent climate news, it's now more urgent than ever to reduce our carbon output so we can still live on this home we call Earth 20, 40 or even 100 years from now. PACE can help.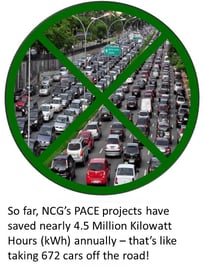 So far, 17 PACE projects have been completed in Michigan and NCG acted as PACE Coordinator on five of them – more than any other outside company to date. NCG's projects alone included loans totaling over $2.5 Million for energy conservation measures that collectively will save the building owners more than $5.25 Million over 20 years. Not to mention the positive environmental impact of nearly 4.5 Million Kilowatt Hours (kWh) annually - like taking 672 cars off the road!
Click here if you're ready to learn more and see if PACE financing can help you finally reach your energy efficiency goals.