Follow these three must-do steps for success.
More than 80% of commercial buildings in the US are at least 20 years old. In most of those buildings, the HVAC equipment has not been updated. So it's not surprising that a Federal Government study found that approximately 95% of the cost of owning a building is in the building's maintenance, operation, insurance, financing, etc. Only 5% of the cost of owning a building results from its construction.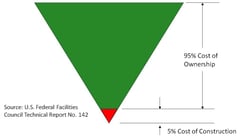 Given the numbers, it's clear that managing the 95% will have a greater impact on ownership costs over the life of the building. How do you do it? Here are three steps to successfully managing capital expenses for your existing building.
1. Be Aware
You have to know what you're dealing with. What are your costs? This goes beyond just the monthly utility bills. It includes staff, depreciation, maintenance and replacement costs. You can't always account for the intangibles, such as loss of productivity when things go wrong and your maintenance staff gets pulled from a preventive maintenance project to an emergency. But consider that you can reduce such costs in the future.
You also need to know your budget, including what other funding sources or rebates may be available through your local utilities or government. Many communities are adopting PACE (Property Assessed Clean Energy) funding where the savings from energy efficiency improvements pay for the loans needed to make them.
More and more, communities and governments demand that buildings disclose their energy use. Understand the regulatory requirements for your area. Consumers as well as tenants may want to see energy usage data. Prospective purchasers and investors certainly will.
2. Measure
You can't manage what you don't measure. What do you want to improve and by how much? An outside expert may be better able help you understand what is realistic. Can you cut your utility costs by 50% with a payback of less than 5 years? That's not likely. But cutting costs by 25% with a 10-year payback may be a more reasonable expectation.
Gather energy use data through an energy audit. Plug the numbers into Energy Star Portfolio Manager to see where you stand compared to similar buildings. You'll need this information to set targets and properly fund your projects.
From the energy audit, you can ask for an energy model so you will have a better picture of your potential for savings. (See RMI, 9 elements of a Deep RetroFit Value)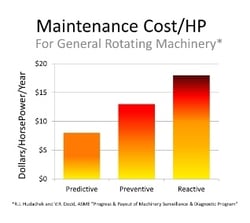 Consider also that reactive maintenance costs more than predictive or preventive maintenance. Often the result of deferred maintenance (delaying required maintenance or equipment replacement), reactive maintenance typically leads to unplanned shutdowns that are not only costly, but also can be chaotic for a business. It costs even more to repair or replace a piece of equipment that fails suddenly, e.g., a chiller in mid-summer or a boiler in mid-winter, than it does to
Looking at it this way, using capital funding for predictive and preventive maintenance makes a whole lot more financial sense.keep equipment properly maintained.
3. Implement
This is often where the stumbling blocks show up. And this is where having outside help can add the most value.
An energy expert will help frame the case for change and help to secure buy-in from key stakeholders. They can provide hard numbers for actual costs and potential gains. They can also recommend the most economical and effective upgrades, and even provide training to staff that will help ensure long-term results. This will ease the burden of the implementation for the building staff so the maintenance team can continue to do their jobs.
Low-cost and no-cost retrofits help save considerably on utility costs. But be careful, as completing these upgrades in isolation can make it more difficult to secure money for the deeper energy retrofits that save the most time, energy and money in the long run. (See "Why Not to Do the Easy Energy Efficiency and HVAC Fixes") Successful long-term capital plans spread costs across several projects to improve the ROI over funding each piece separately.
Conclusion
From idea through implementation and training, the energy upgrade or retrofit process can take a few months to more than year. To make the most of your time and money, prepare your team and keep them informed of the progress. Celebrate "wins" along the way, and continue to celebrate them into the future.
An effective maintenance strategy, especially one that includes necessary upgrades, goes a long way toward improving building efficiency, managing capital funds, and keeping tenants and employees satisfied and productive.