(updated chart, 2/25/21) As those of us in the building management and maintenance field prepare to "re-open" buildings, the health and safety of our tenants, guests, patients, staff and residents remains top-of-mind. Soon the general public will leave the comfort and safety of their homes where they have been limiting human contact for weeks, and venture out into the world with other people.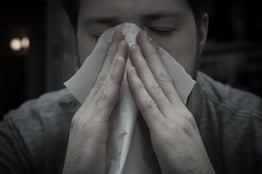 We must be prepared for them so they can feel safe when returning to shop, work and play in "the new normal."
Nothing about building maintenance will be normal – perhaps for quite a while. Every commercial building in the US and probably in most industrial nations, is now taking – or should be taking – extra precautions to ensure safety. People should feel safe going back to work, and building owners and managers must enact measures to both ensure safety and prevent, or at least minimize, potential litigation.
In addition to CDC, OSHA and WHO guidelines, we have information from industry experts at ASHRAE, BOMA and others. Other respected organizations, such as facility management firms JLL, CBRE and others have issued their own guides for preparing your building before returning to "business as usual" at your location.
New cleaning procedures and hygiene supplies are essential to protect against infection from direct contact with surfaces. Because the virus is also transmitted through droplets in the air, ensuring better indoor air quality (IAQ) to help prevent the spread of COVID-19 is also critical. For this, we look to various air filtration and disinfecting systems. The most commonly used include HEPA (High Efficiency Particulate Air) Media Filtration, UV (Ultra-Violet Light) Purification and Bi-Polar Ionization.
These popular systems do have some features in common, but in practice are very different:
HEPA Filtration and Bi-Polar Ionization are proven to reduce particulate levels. Neither one uses harmful chemicals or creates a by-product so that is definitely a plus. Adding extra filters, as required with HEPA systems, can reduce airflow due to increased resistance in the system. This can cause HVAC systems to work harder to maintain the same airflow as before, and therefore use more energy and cost more money.
Bi-Polar Ionization and UV Light are both easily installed without having to re-engineer the system, and they both treat contaminants. UV light, however, is only effective if the contaminants pass close enough to the light field for a sufficient period of time, and it needs to be the proper type of UV light, i.e., UV-C. The amount of time spent in close proximity to the light is very important to the effectiveness of the UV radiation. Unfortunately there is no way to guarantee that all air will pass close enough to the light for the UV light to be sufficiently effective.
One of the primary manufacturers of bi-polar ionization equipment, AtmosAir, has a system with patented technology to treat the source of contamination without restricting airflow. This system is effective against particles as well as bacteria, spores, volatile organic compounds (VOCs) and viruses.
As recently as last month, publications have been citing this technology for its employability as an effective COVID Prevention Technology, as seen in Center for Active Design, and Business Insider.
Even Gensler, the largest A/E firm in the world, is installing this same system in their own buildings. See what they are doing here, and pay special attention to point #4, "Invest in air-cleaning systems to protect collaborative environments."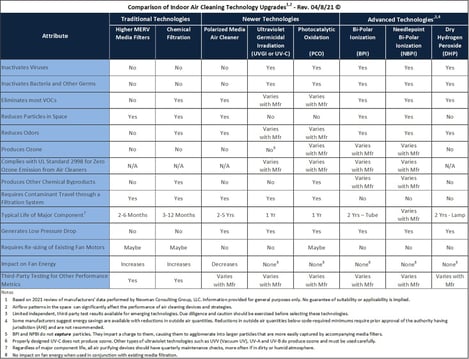 This grid compares various types of equipment designed to improve air quality in buildings. Only some eliminate viruses, bacteria and other germs.
The reasons stated above and the information in this table have helped us make the decision to present the AtmosAir system as the most effective system to help reduce air-carried bacteria and viruses in indoor settings.
Contact Newman Consulting Group for a complimentary consultation to see if this system is right for you and if your building is eligible for no-money-down, low-cost financing through PACE.