With the increasing number of catastrophic weather events over the past few years, the concept of Resilience should be top-of-mind for anyone involved in the building industry.
First it was rebuilding. Now it's resilience. We need to be thinking about, and acting upon, what we can do now to prevent having to start over from scratch after the next 100-year flood that happens only a few years after the last one.
Resilience was most definitely a theme at the January 2018 ASHRAE Conference. Since then it's been like that red car you were told not to look for, but yet you see it everywhere.
It makes sense that those of us involved in "green" practices and energy efficiency in the built environment are leading the charge. I have a saying, "If you are prepared when the emergency happens, it's not as much of an emergency." And that's what we need to be doing now. Fortunately, many of the energy conservation measures we recommend also improve resiliency.
In 2017, USGBC and GBCI announced a holistic approach to resilient design. With more than 50 requirements across many areas of building design, the RELi rating system includes categories such as construction materials and hazard mitigation, along with many of the points in the LEED Resilient Design credits. RELi hopes to encourage and recognize architects, developers and building owners and managers to think differently. How can we prepare for the inevitable shocks and stressors? How do we prepare long-term for obstacles (hurricanes, floods, drought) that once were considered too "far out" to worry about?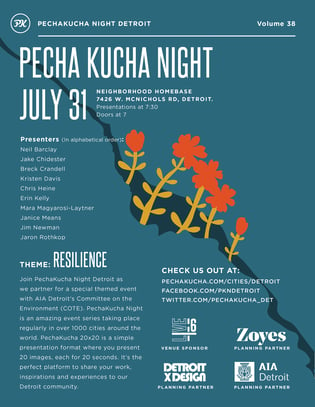 As is often the case, the higher education community has been quickest to embrace such standards. Not only because their audience of Millennials demand it the same way they look for modernized, food court like cafeterias on their campuses, but also because many of these esteemed institutions have older buildings, and the campus may be as large as a small town. Preparation is necessary for the safety of the community, and if colleges can reduce cost at the same time it's better for everyone!
PechaKucha Detroit chose Resilience as the topic for its next PechaKucha Night. In the requisite 20x20 format, presenters share 20 images for 20 seconds each on a theme. Jim Newman is one of the featured presenters at this upcoming event co-sponsored by AIA Detroit Committee on the Environment (COTE). The event is free and open to the public. If you would like to hear Jim's take on what energy efficiency measures will also help promote resilience, please join us on Wednesday, July 31.
Note: If you missed Jim's presentation live, you can see his slides and hear what he has to say here.