Event Introduced Innovative Ideas and Communities, Generated Ideas to Keep Sustainability Movement Going
On October 25, 2017 the USGBC Detroit Region presented an event designed to connect and cross-fertilize the sustainability communities of Detroit. The event was hosted at the McGregor Memorial on the Wayne State University campus. The NCG team was there as a sponsor and participated in many of the activities that day.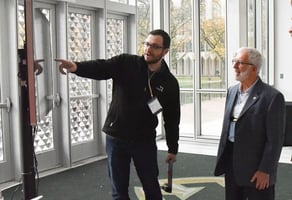 The one-day event titled, "The Sustainable Detroit Forum, Showcasing our Healthy High-Performance City," was organized in partnership with American Institute of Architects, Sierra Club, Southeast Michigan Sustainable Business Forum, EcoWorks/Youth Energy Squad, Elevate Energy, and Michigan Interfaith Power and Light.
The event, which was a 'sell-out' with more than 200 attendees, provided a day of interactive learning with morning and lunch keynotes followed by a series of short presentation about sustainable projects. These 10-15 minute Lightning Rapid Fire Presentations on completed/ongoing/future projects formed the bulk of the sessions, allowing as many people as possible to share their sustainability actions and visions.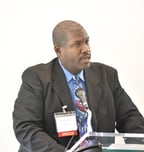 One of the presenters, Juan Shannon, introduced an innovative community being developed in Highland Park. The project is being built around a school that is being re-purposed into a net-zero community center.
At the end of the day, an interactive workshop focused on the question:
How do we move the sustainability movement forward in Detroit TOGETHER?
Workshop attendees broke out into three groups for facilitated discussions in the areas of education and community engagement, infrastructure and resources, and policy and regulation. Responses were recorded for future action. At Newman Consulting Group, we're looking forward to supporting the initiatives by continuing to educate businesses on the triple bottom line and its connection to quality of life, and helping building owners with Detroit ordinances and tax incentives for sustainable development.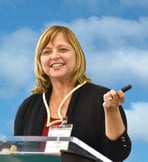 Photos
Top: Michael Cousins (l), OHM Advisors, and Jim Newman, Newman Consulting Group, discuss the benefits of 'virtual reality' on site.
Middle: Juan Shannon, Urban Pioneer and Visionary for Parker Village.
Bottom: Connie Lilley, Executive Director, Detroit 2030, reports about the Detroit 2030 initiative and how it is benefiting building owners in the core of downtown and midtown.
Contact Newman Consulting Group to see how we can help you improve your Triple Bottom Line or take advantage of tax incentives for sustainable development.