It's 2020 and we are in for BIG changes in this decade! Or are we?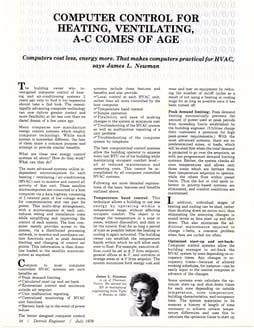 One of the most significant HVAC technology advancements in the last decade has been IoT, the Internet of Things. At full potential, IoT's ability to drastically improve energy efficiency and lower maintenance costs in commercial, industrial and institutional buildings will make the most significant impacts since computer controls were first introduced to the industry nearly 50 years ago.
They said it was too expensive.
Computer controls for HVAC systems came out way back in the early '70s. The new, cutting-edge technologies allowed us to easily control, and even automate, much of a building's systems:
Temperature band control
Peak demand limiting
Optimized start-up and set-back
Economizer control & minimum outside air setpoint
Troubleshooting of individual zone malfunction
Flexibility
I wrote one of my first articles on this topic, "Computer Control for Heating, Ventilating, A-C Comes of Age," in 1978 after one of our best customers vehemently resisted. "It's too expensive!" he said, "Nobody wants a hula hoop - it's just a fad and will be gone in a few years." He didn't see the enormous potential for both energy and cost savings, and for the ability to have fewer workers checking each thermostat and window to see what's open and what's closed.
Luckily for us he was wrong on both counts! At the time, few people really knew that using those new-fangled computers to control HVAC systems may have been the most significant HVAC technology advancement of the last century. The article's subtitle says it all, "Computers cost less, energy more. That makes computers practical for HVAC."
Sure the early adopters paid handsomely, but they quickly made up for it in energy savings, lower maintenance cost of HVAC systems and equipment and overall occupant comfort and productivity. I believe the same holds true with IoT today.
BEMIS and IoT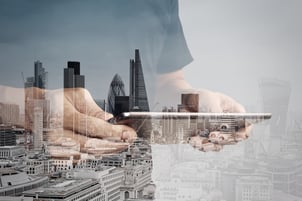 In new construction and retrofits, Building Energy Management Systems (BEMS) and Building Energy Management Information Systems (BEMIS) need to be the standard option. IoT, while not yet standard, is fast becoming the norm. Adding an IoT component to an existing computer controlled system is not nearly as big a leap, or as expensive, as going from manual systems to computer controlled systems.
Before such systems, the best Building Energy Management System was the guy with the loudest hammer!
One area that has not seen as much advancement, however, is what can be monitored. That list has been pretty consistent. The real opportunity lies in what and how we monitor and what we can do with the data. For that you need a comprehensive Building Management System (BMS), also called a Building Automation System (BAS), that includes security, elevators and fire systems in addition to HVAC and lighting.
Still, when you can give the facilities management team easy, remote access from a smart phone or tablet to entire buildings systems, floor by floor, room by room, not just for heating and cooling, but also lighting, shade, security and more, why wouldn't you?
Everything Old is New Again
In 2020, I stand by what I wrote in the July, 1978 Detroit Engineer, the magazine of the Engineering Society of Detroit: "The best computerized control systems allow the building operator to squeeze every last BTU out of his building while maintaining occupant comfort level - all at reduced maintenance and operating costs." And I even went on to muse, "Rapidly advancing computer technology can now deliver greater control and more flexibility at far less cost than we dared dream a few years ago."
Remarkable, isn't it? It still holds true today. The key difference is "rapidly advancing computer technology" is Iot – and it's light years more advanced than we could have dreamed of then!
For more on what you can do to save money and energy, see Best Practices for Achieving High-Performance HVAC Systems.
Could your Building Energy Management System use an upgrade? You might qualify for PACE financing to help cover the cost.