How do you save money and energy on your commercial building? PACE may be the answer – with no upfront cost to you!
Question: What do an old flower shop in Lansing, a Detroit mansion, a medical office building in Macomb County and a beer distributor in Lake Orion have in common? They all used PACE to improve energy efficiency and save money in their buildings.
Whether they needed new windows, improved lighting, upgraded HVAC, or solar power, PACE (Property Assessed Clean Energy) enabled these buildings to complete energy efficiency upgrades with little to no up-front costs. Some highlights of PACE include:
100% upfront financing

Long-term financing - from 10 to 25 years

Fixed interest rate
1. How does PACE work?
According to Lean & Green Michigan, the PACE Administrator in Michigan, "Property Assessed Clean Energy, or PACE, is a long-term financing tool, facilitated through local governments, allowing commercial property owners in Michigan to undertake energy efficiency, water efficiency, and renewable energy upgrades."
Through PACE, property owners receive 100% of the funding up front. Financing for commercial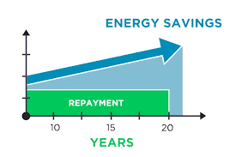 buildings is now available to you if you own property in 35 of 50 US states, and soon should be available in more. See US map here. In Michigan, 23 counties allow PACE financing. See the Michigan PACE map.
To date, Newman Consulting Group has facilitated five PACE projects in five different Michigan counties. Only 13 have been approved in all of Michigan.
2. How do you know if PACE is right for your commercial or industrial property?
Since our first PACE project in 2016, we have found that buildings that get the most out of PACE are usually new construction or those that are at least 10 years old. If you have high energy bills, if tenants, staff or visitors complain that it's too hot or too cold, or you're still using incandescent or old fluorescent light bulbs, PACE may help.
PACE works best when implementing several energy efficiency measures all together. Most water, electricity, gas and renewable energy measures are included, so buildings can - and should - implement several at once. They'll start realizing all the savings at the same time instead of spread out over several years of doing one disruptive project after another.
3. What are some reasons a project is not right for PACE financing?
Taxes: A building that is not current on property taxes is not eligible.

Liens: If there are any liens on the building it is not eligible.

Money: If the organization has enough discretionary funds they may prefer to pay for financing out of capital expenditures.

Size: Smaller buildings, generally those under 20,000 SF, or that spend less than $80,000 annually on utilities, typically won't see the savings required for PACE financing.
But size should not be a factor in pursuing energy conservation measures! Will the building still save money? Absolutely! Do they still need someone like NCG to help keep them on schedule and on track and make the most of the dollars they are spending? Definitely! But they might want to consider financing options other than PACE – and NCG can help with those as well. Click here for other financing options to implement energy upgrades at low or no cost to you.
In Michigan, some PACE projects, specifically those where the investment in energy conservation measures is more than $250,000, must show positive cash flow from the start. In other words, the utility savings have to be more than the PACE payments.
Here is one example of what that might look like for a large commercial building that wants to upgrade lighting and HVAC systems.
Cost of utilities before upgrade: $120,000 annually ($10,000 average monthly)

Loan to pay for energy conservation measures: $300,000

Loan Payment (20 years at 7%*): approx. $2300/monthly, $27,600 annually
Results! In this example, the building improved energy efficiency by 25%, reducing utility bills by 25%.
Cost of utilities after upgrade: $90,000 annually ($7,500 average monthly)

Difference between utility cost before and after upgrade: $2,500

When the difference ($2,500) is greater than the loan payment ($2,300), we say this is cash-flow positive
You might imagine, and you would be right, that it takes a lot of paperwork and documentation to complete a PACE project. PACE guidelines may vary somewhat from state to state so it's important to work with a company that knows what's going on and has some experience.
If you want to keep the cost of energy conservation measures off your balance sheet so you can use that money to fund something else - and have someone else do the cumbersome paperwork for you - give us a call.