Three steps to take now to improve Indoor Air Quality in the Age of Coronavirus.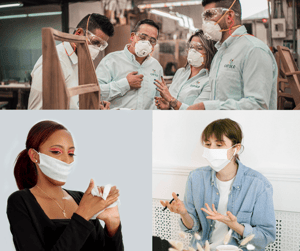 (Updated chart 2/25/21) Whether your building is open, opening soon or closed until next year, you are behind if you're not already planning to improve indoor air quality (IAQ) at your facility. (See "Why Good IAQ Matters in the Age of COVID-19.") If you made changes to improve safety back in May or June (as we transitioned out of total lockdown), new information, products and tools that we discuss here may mean you're looking at making changes again.
The good news is that there's a lot of useful information out there. Some of it, however, gives conflicting messages. (See "100% Outside Air - Is it Really One of the Best Solutions for Flushing Buildings?") Don't jump in and grasp at the first shiny penny. Study the options, talk to experts, and then do what makes the most sense for your people and your bottom line.
Assess your building and the HVAC systems that currently exist. Make a checklist and consider the following:
Who will be working/living/shopping/learning there?
What will the daily traffic patterns look like?
How old is your system?
What upgrades/additions are available with your current equipment?
If you need to make major updates, how will you pay for them? (hint – read to the end to find out!)
Several industry groups like BOMA and ASHRAE, as swell as management companies like JLL and CBRE, have checklists. Find links to such COVID-specific resources here.
Research your options. We have done some of that legwork for you. See "Three Coronavirus Prevention Techniques for Your Building - a Comparison." Use our chart below to help guide you. Our COVID-19 Specific Resources section includes a compilation of industry and government information and commercial options.
Note that ASHRAE's "Position Document on Infections Aerosols" has specific recommendations including the following:
Change building operations, including HVAC systems, to reduce airborne exposures
Increase Ventilation and Filtration
Maintain humidity between 40 – 60% RH
Use higher MERV rated filters
Run Systems Longer
Use UVGI, in any form (duct, in-room, portable)
ASHRAE's document does not, however, mention one of our favorite Air Quality methods, Bi-Polar Ionization. Their primary concern is there is not enough testing and 3rd party verification at this time. Our research gives us confidence that it works!
Bi-Polar Ionization, like HEPA Filtration, is proven to reduce particulate levels and doesn't use harmful chemicals. Like UV light, Bi-Polar Ionization is easily installed. If you choose a bi-polar ionization system, be sure to choose one that treats the source of contamination without restricting airflow and is effective against particles as well as bacteria, spores, volatile organic compounds (VOCs) and viruses.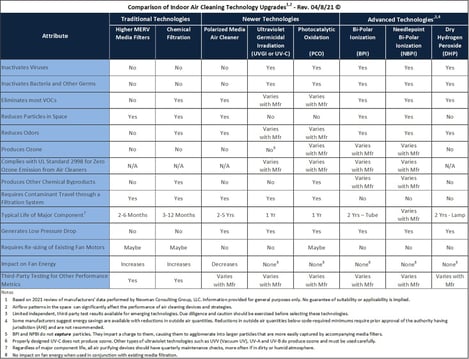 Take action. We know that action in this case probably means spending money. Maybe a lot of money. If your organization doesn't have the money, and most don't, you have options.
Commercial loans? They have to be paid back in a few years.
Use CapEx? You might have to take money from other projects.
Rebates, tax credits and deductions? They may or may not be available in your area.
PPA? A Power Purchase Agreement may be an acceptable option.
PACE? Property Assessed Clean Energy, and though it's the "new kid," (Nearly 5 years now) it has proven to be a viable option for many projects we've worked on in Michigan and elsewhere.
In Michigan we have the nonprofit Michigan Saves. Operating as a green bank, they offer unique financing programs.
The key is to help people who are returning to work (and shop and play) feel safe and comfortable. In many buildings, this can be done while saving money on energy costs, which in turn, will accomplish three things:
Minimize litigation risk
Improve productivity
Increase bottom-line profits
And who couldn't benefit from that during a pandemic?